Online seminars and events – Watch the videos
Fall Semester 2021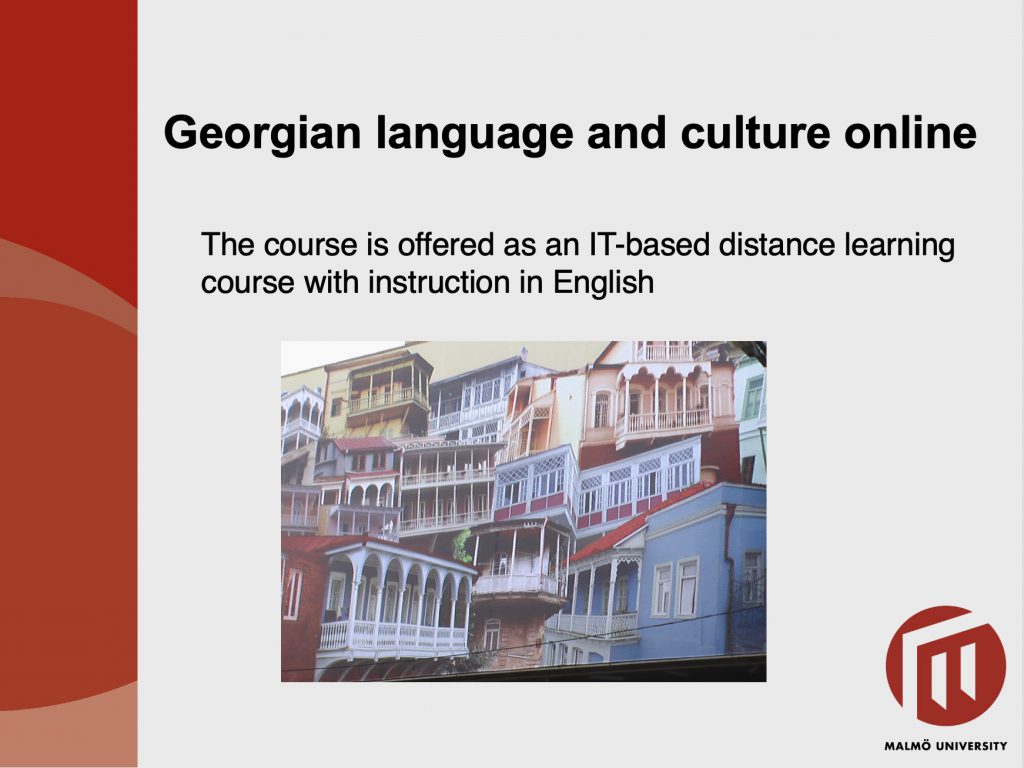 — Prof. Karina Vamling, Dr. Manana Kobaidze and Dr. Revaz Tchantouria: Introduction – Georgian language online – 20 years. September 24, 3-5
VIDEO
— Book release ქართული ენა. Georgiska (download ebook)
VIDEO
— Prof. Zaal Kikvidze (Arn. Chikobava Institute of Linguistics, Tbilisi State University): Address in Georgian: Language and Society through History. More info. September 24, 3-5 pm
VIDEO
Prof. Tinatin Bolkvadze, Tbilisi State University & State Language Department: The language situation in multilingual Georgia (more info)
October 1, 1.15-3.00 pm
VIDEO
— Denis Keefe (CMG, Director National Security Faculty, Royal College of Defence Studies, London): A Diplomat in Georgia
October 8, 1.15-3.00 pm
Exhibition VIDEOS
— Opening of Georgian Art Online Exhibition, 3.30 (Swedish time)
"Art Studio Karlo Grigolia and his followers" and "Scenes from Abkhazia"
Read more and watch the exhibition here.
VIDEO
Kristian Carlsson, publisher, writer and translator; Tamara Tchikovani, translator, Manana Kock Kobaidze, lecturer, translator and writer and Hanna Sandborgh, PhD Candidate at Tbilisi State University: 
Roundtable: Georgian literature in Sweden – Swedish literature in Georgia. More info here. October 22, 3-5 pm
VIDEO
Prof Kevin Tuite, University of Montréal, Dept of Anthropology: 
Banqueting as an extreme sport: Agonism and the Georgian supra. More info here. September 5, 3-5 pm.
TRAILER
Screening of the Georgian film Namme by director Zaza Khalvashi. Meet the cinematographer of the movie, Giorgi Shvelidze, together with Prof. Tamta Khalvashi. November 23, 5-7 pm