Online seminars and events – Fall Semester 2021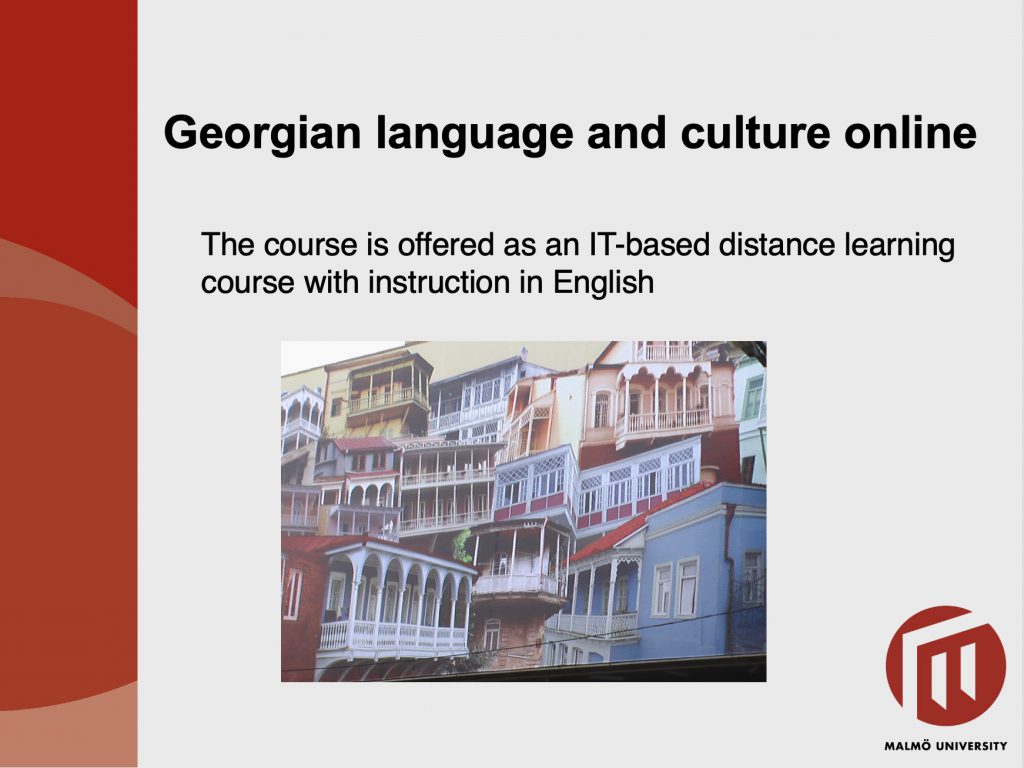 September 24, 3-5 pm
— Prof. Karina Vamling, Dr. Manana Kobaidze and Dr. Revaz Tchantouria: Introduction – Georgian language online – 20 years
— Prof. Zaal Kikvidze (Arn. Chikobava Institute of Linguistics, Tbilisi State University): Address in Georgian: Language and Society through History. More info.
October 1, 1.15-3.00 pm Zoom (sign-up here)
Prof. Tinatin Bolkvadze, Tbilisi State University & State Language Department: The language situation in multilingual Georgia (more info)
October 8, 1.15-3.00 pm (Sign-up here, zoom)
— Denis Keefe (CMG, Director National Security Faculty, Royal College of Defence Studies, London):
A Diplomat in Georgia (Sign-up here, zoom)
— Opening of Georgian Art Online Exhibition, 3.30 (Swedish time)
"Art Studio Karlo Grigolia and his followers"
"Scenes from Abkhazia"
Read more and watch the exhibition here.
October 22, 3-5 pm (Sign-up here)
Kristian Carlsson, publisher, writer and translator; Tamara Tchikovani, translator, Manana Kock Kobaidze, lecturer, translator and writer and Hanna Sandborgh, PhD Candidate at Tbilisi State University: 
Roundtable: Georgian literature in Sweden – Swedish literature in Georgia. More info here.
November 5, 3-5 pm (Sign-up here)
Prof Kevin Tuite, University of Montréal, Dept of Anthropology:
Banqueting as an extreme sport: Agonism and the Georgian supra.
Other events
— Screening of Georgian film Namme by Zaza Khalvashi (November, date and time TBA)
— Online exhibition of Georgian art
— Book release ქართული ენა. Georgiska (download ebook)